Story reprinted from the GTA International Airgun Forums
Summertime Hunting,
The Porkers in Summertime don't need to move much since there's plenty to eat on the forest floor so they prefer to stay put in the narrow thick gulches and feast.
We need to go in and look for them,
I was cruising in this gulch when all of a sudden I heard the unmistakable sound of a Hog crushing Kukui nuts ( I was a bit surprised because usually they leave those for the winter and feast on fruits in the summer, but hey, who am I to complain ? 

)
I slowly approached the bend in front of me and as I rounded it I immediately spotted a very nice young Boar, closed in a few more yards to about 35 and when I had a clear path I grabbed a tree with my left hand, placed the gun on my wrist and got ready to shoot, he was actually standing with his back legs on the slope and his all snout in a Hole, the shot opportunity wasn't perfect since he was giving me a 3/4 view of the skull with the sweet spot right at the corner, this is a shot I would never take with a small bore, heck even with my .357 Rainstorm  I would definitely prefer to wait for a better one, but this gun and ammo combination is so powerful and accurate that I knew I would be alright, so I got the Crosshairs on the spot and let the 160gr Wide Nose go to find its target.
My Immediate thoughts where,….man this gun is quiet even in the silent narrow walled full canopy jungle, ….The impact was loud, and than I noticed that during the dance there was a lot of Blood being sprayed.
Let's go check that boar out.
The impact.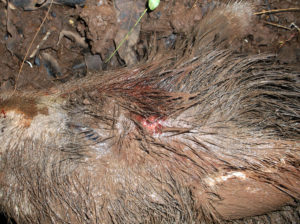 And the reason for all that blood to my total surprise was that the bullet did a complete Pass through and exited by the Jaw.
Sorry Tom, the Slayer has a bunch of mud on